Deal Clothing Offers
Deal Clothing Offers Categories
---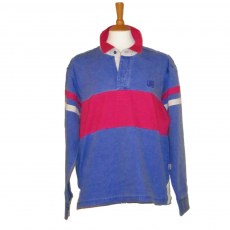 Deal Clothing - Seaman Shirt (AS106)
We are delighted to have the traditional long sleeved Deal Seaman Shirt back in stock. There is a buttoned opening, with contrasting interfacing both on the collar and the cuffs. A great overshirt to wear in the Summer. Sizes: Small, Medium, Large, XLarge, XXLarge, XXXLarge Colour: Denim/Pink/Natural Men's Sizing Guide: Shirts, Smocks and Honeycombs Small Medium Large X-Large XX-Large XXX-Large 40-42'' 42-44'' 44-46'' 46-48'' 48-50'' 50-52''
Deal Clothing - Button through Nautical Shirt (AS112TPL)
Deal Clothing have produced this especially for us. Many of our customers love the AS113 but prefer full button opening. It is the same hard wearing cotton, with all the details you would expect from Deal, fully buttoned, two breast pockets, contrasting interfacing and side vents. Sizes: Small, Medium, Large, XLarge, XXXXLarge Colours: Denim/Sky, Sky/Denim Men's Sizing Guide: Shirts, Smocks...
---
Deal Clothing - TPL Nautical Shirt (AS113TPL)
This comfortable, loose fitting shirt from Deal Clothing comes in several colourways. It has a buttoned opening, good length short sleeves, with side vents and breast pockets. A good, hard wearing alternative to a polo shirt in the summer. 100% cotton, prewashed Short sleeves, breast pockets Machine washable (follow instructions) Sizes: Small, Medium, Large, XLarge, XXLarge, XXXLarge Colours:...
Deal Clothing - TPL Victory Shirt (AS110TPL)
The original classic Victory Shirt from Deal Clothing is in strong cotton, with two front pockets, cuffed sleeves and contrasting interfacing on the collar, cuff and side vents. Sizes: Large, XLarge, XXLarge Colours: Denim, Light olive green Men's Sizing Guide: Shirts, Smocks and Honeycombs Small Medium Large X-Large XX-Large XXX-Large 40-42'' 42-44'' 44-46'' 46-48'' 48-50'' 50-52''
---
Deal Clothing - Mens Polo (AS205)
Deal Clothing have produced these lovely cotton polo shirts with fabric backed collars and side vents in four great colours. Colours: Charcoal, Denim, Red, Olive Sizes: Small, Medium, Large, XLarge, XXLarge, XXXLarge